Disposal Bin Rentals for Home, Cottage or Business in Peterborough and The Kawartha's
Kawartha Disposal is proud to provide disposal bin rentals in Peterborough, Lakefield, Apsley, Norwood, Millbrook, Buckhorn, Omemee, Lindsay and surrounding areas. Are you planning a renovation or home improvement project and looking to rent a garbage bin or dumpster for your reno waste? Are you a roofing contractor who needs bins to dispose of shingles? Or perhaps a commercial business producing solid waste on a regular basis?
Kawartha Disposal can provide disposal bins (dumpsters) to address your trash removal needs. Located in Youngs Point and servicing  Peterborough, the Kawartha's and surrounding areas, we provide fast, reliable and reasonably priced bin rentals for your residential, cottage, commercial/industrial and municipal needs. Licensed and Insured, we accept and dispose of all types of non-hazardous solid waste and recycling.
Whether you're doing post-construction clean-up of a commercial or industrial site, a home or cottage renovation or just need to get rid of an attic's worth of junk, Kawartha Disposal can make the job easy for you. We provide fast, affordable bin rental service throughout the Peterborough area.
How do I decide which size of bin I need to rent?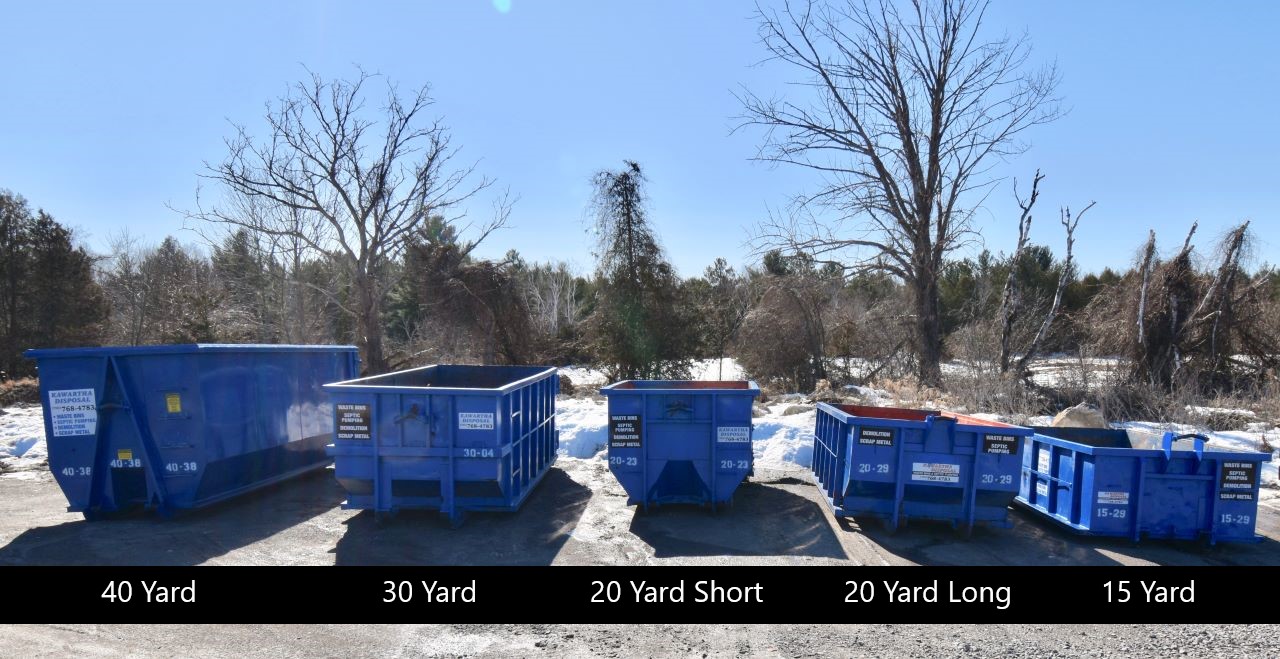 At Kawartha Disposal we have 5 different size bins available.
To help visualize space requirements here is the approximate cubic yardage taken up by some common items:
Kitchen Stove – 1 cubic yard
Small sofa – 2 cubic yards
Refrigerator – 2 cubic yards
Small car – 15 cubic yards
15 Cubic yard bin [14 feet long 8 feet wide 4 feet tall ] 
Household and construction debris removal
Roofing materials
Medium-sized projects
Larger landscape projects and seasonal clean-ups (clean fill)
20 Cubic Yard Bin (Short – 14 feet long 8 feet wide 6 feet tall or Long- 20 feet long 8 feet wide 4 feet tall) 
This bin size could be used for a medium-sized kitchen renovation
Large basement or garage cleanout
Deck or shed demolition
30 Cubic Yard Bin [20 feet long 8 feet wide 6 feet tall]
Intended to handle a range of projects that come with significant amounts of debris. Commonly used by general contractors, light commercial and/or industrial projects.
40 Cubic Yard Bin [20 feet long 8 feet wide 8 feet tall] 
This large bin is best used for projects with a high volume of debris. Large construction and industrial projects and/or multi-room, major home renovations.
What is the bin rental process?
Give us a call at 705-768-4783 and tell us what size of bin you are interested in renting. Ordering the correct size is important – you don't want to have to order another bin because you have underestimated your needs. If you're not sure, our helpful staff can advise you. Of course, we don't know how much trash you have, but we can guide you based on our experience and your description.  Once you decide on the right size bin for your needs – we will provide a detailed estimate.
A Kawartha Disposal truck delivers the disposal bin to your Peterborough or other designated Kawartha lakes site.
You have seven days to fill the bin and call us to schedule a pickup. One of our drivers will come by to pick up the bin, get it weighed and unload it at the transfer station. If you don't call, we will assume you are not done filling the bin and you need to keep it for another 7 days. (at an additional cost)
The process is complete when we calculate the final cost based on the bin rental and debris weight. Kawartha Disposal will then bill you using the method of your choice
How much does it cost to rent a dumpster?
There are a number of factors that go into calculating the cost of a disposal bin rental. Size of bin, weight of materials, location and length of time you keep the bin are all contributing factors. All costs will be clearly identified when you get your estimate so there are no surprises or hidden fees.
What can I put in my waste disposal bin?
Household waste – clothing, old toys, electronics, furniture and general household garbage
Renovation materials – lumber scraps, drywall, tiles, shingles, cabinets, glass/mirrors, metal
Discarded fixtures – sinks, toilets, old appliances,
Landscape waste – trees, shrubs, brick – ask us about our clean fill rates!
What can't I put in my waste disposal bin?
Here is a list of some of the restricted items:
Propane tanks
Corrosive or explosive materials
Wet paint
Car tires
Motor oil
Car batteries
If you are unsure of what can go in your bin just ask – we are happy to answer any of your questions!
Contact us today Kawartha Disposal 705-768-4783 for your bin rental estimate.